23 August 2007
Upgrading Website
Our website is running normal now, afterdown for maintenance. Curently we are upgrading our web features to support online booking more user friendly.
And we are also upgrading our web to support online tracking feature. So our client now can track the logistics online.
( more )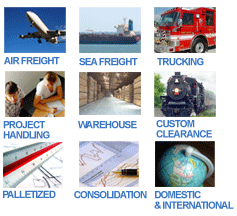 Being the best company for quality and excelence in the freight forwarding
Understanding the need and concerns of our clients is our business philosophy. In ralizing our motto "We Delivery to Confidence" and provide the best service to the customer therefore we will pay a good attention on listening and identifying their needs.
You can contact our staff online
at our email and messenger services.

Email :
general@excellentlogistic.com

Messenger :
MSN &YM : syaid@excellentlogistic.com
Our Vision is to meet customer needs & expectations and makes their logistic process be easier in our hand.

Learn more about us

Online Tracking System
coming soon
Client Online Order
coming soon